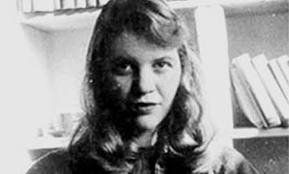 Sylvia Plath (October 27, 1932 – February 11, 1963) was an American poet, novelist and short story writer. Born in Boston, Massachusetts, she studied at Smith College and Newham College, Cambridge, before receiving acclaim as a professional poet and writer.

She married fellow poet Ted Hughes in 1956 and they lived together first in the United States and then England, having two children together, Frieda and Nicholas. Plath suffered from depression for much of her adult life, and in 1963 she committed suicide.
Controversy continues to surround the events of her life and death, as well as her writing and legacy.
This wood burns a dark
Incense. Pale moss drips
In elbow-scarves, beards
From the archaic
Bones of the great trees.

Blue mists move over
A lake thick with fish.
Snails scroll the border
Of the glazed water
With coils of ram's-horn.
Out in the open
Down there the late year
Hammers her rare and
Various metals.
Old pewter roots twist
Up from the jet-backed
Mirror of water
And while the air's clear
Hourglass sifts a
Drift of goldpieces
Bright waterlights are
Sliding their quoits one
After the other
Down boles of the fir.
—Sylvia Plath