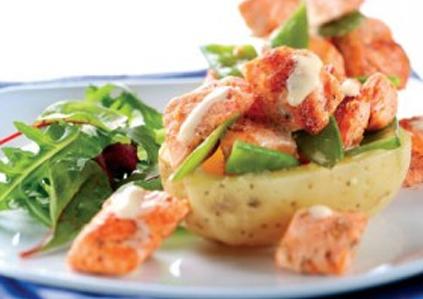 Ingredients:
2 large Fluffy baking potatoes
2 tsp oil
1 x 175g skinless salmon fillet, cut into 2 cm cubes
50g mange tout, halved
1 tsp Cajun seasoning
6 tbsp low fat crème fraîche
Typical varieties: 
King Edward
Maris Piper
Prep time: 
5 mins
Cook in: 
10 mins
Method: 
Wash and dry the potatoes and prick with a fork. Place on a microwaveable plate and microwave on high (700W) for 8-10 minutes or until tender or according to pack instructions.  Stand for 2 minutes.
Meanwhile, heat the oil in a medium frying pan and gently fry the salmon, mange tout and Cajun seasoning for 5 minutes or until cooked throughout.  Add crème fraîche and gently heat through.
Cut the potatoes in half or make a cross in the centre and divide the salmon between the two potatoes.
Serve with fresh salad leaves or vegetables.